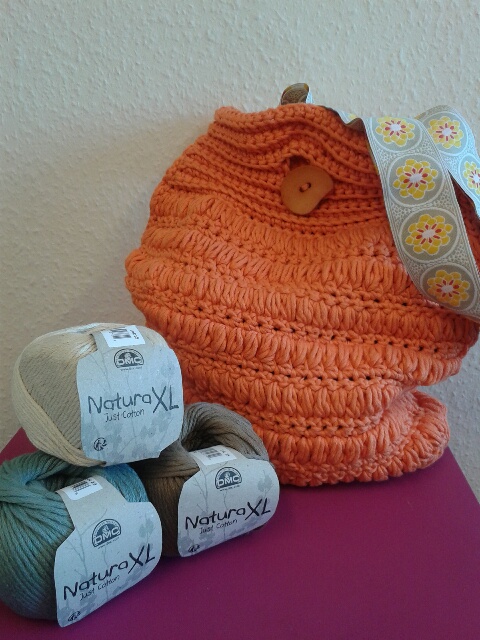 Oooh I loved the pattern as soon as I saw it, gorgeous burnt orange a  real zinga for the summer….  And different too.
It's a crocheted tote bag, I used Natura XL  the colour was perfect, and the weight of the cotton just right for the bag.  Using a 5mm hook I started at the top of the bag creating a simple ribbed look with double crochet into the back of each stitch.  The main body of the bag was all done in a 'bobble' stitch, which I adapted slightly from the pattern as I felt it was too bulky and would make the bag too heavy.
The bobble stitch was fairly easy to do, with the yarn over the hook first and inserting the hook, yarn over again and pulling the loop through about 2.5mm (1") repeating that so that you have 7 loops on the hook before pulling a final yarn over through all of them to tighten the bobble at the top. That is repeated along the row and when you get to the end you find you have twice as many stitches so you have to turn and do a double crochet into every other stitch to get back to the right amount.
Its very effective and finished the body of the bag really stylishly.  The base of the bag was made quite sturdy by crocheting into the stitch below each time.  The whole process apart from the base was repeated for the other side of the bag.  I then used a crochet slip stitch to attach the pieces together.
To line the bag I used a blue cotton fabric, did a French seam to join it and I bound the bottom section so that no frayed edges would be seen then slip stitched it into place inside the body of the bag.  For the long handles I used a pretty woven ribbon which I sewed back to back and then attached to the inside of the bag where the main body joined the rim.
All in all I am very pleased with the final result and will enjoy using it in all summer long.  I used about 6 balls to make this fabulous bag.
We have some great colours of Natura XL in stock, and apart from bags which it is great for you can make cushions, mats, tops in fact all sorts of things.