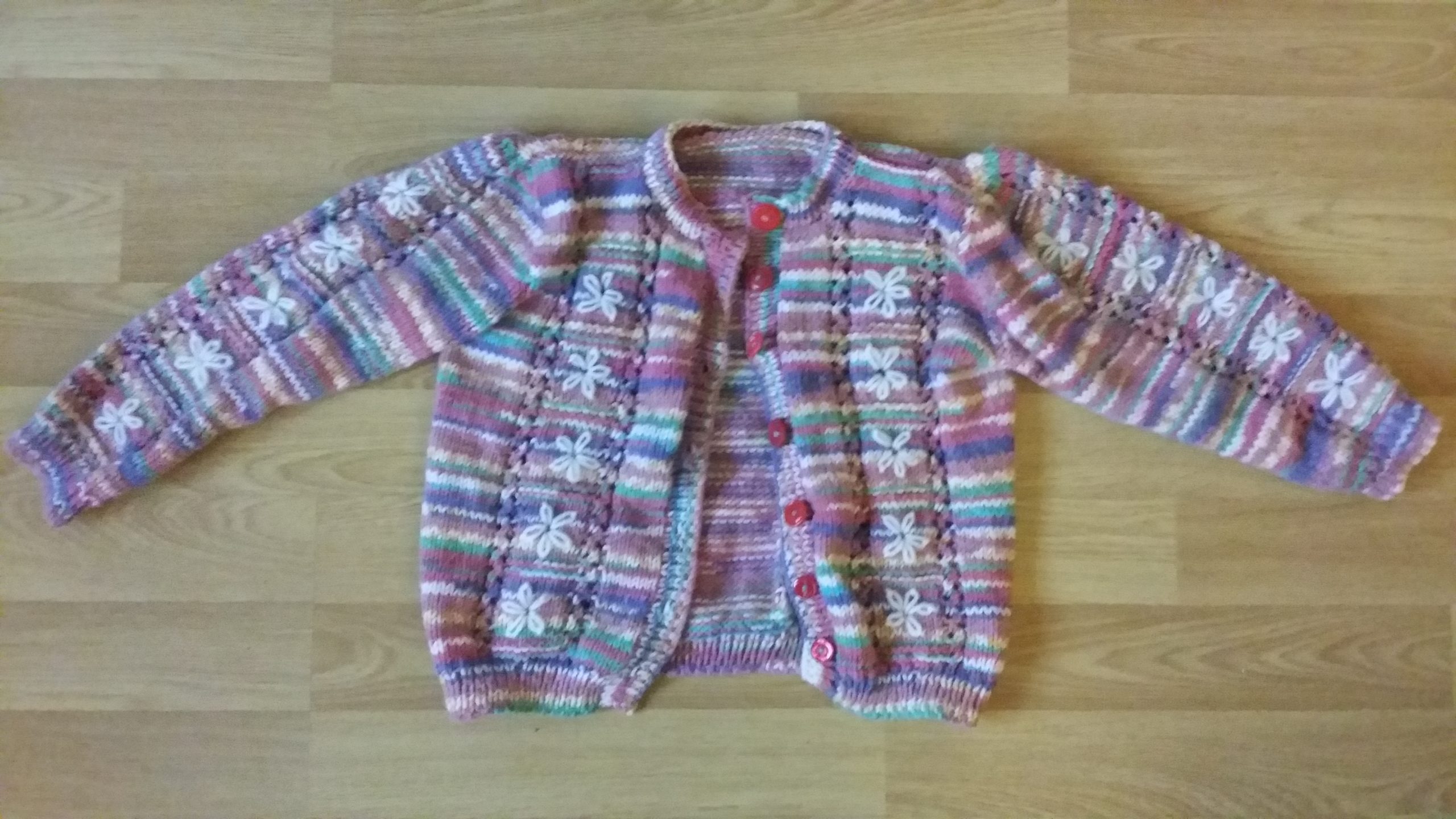 Happy New YEAR!!!
My resolution is to do more of the things I like doing and feel relaxed about and less of the irritating and time consuming things that are too stressful.  So sewing, knitting, crochet it is.
Christmas at our house is hectic, all the family turn up and we end up being a bit frazzled, but happy to see everyone.  Just prior to this I saw my little 8 year old niece, I taught her to crochet a couple of months previously, she was happy making friendship bracelets and hair braids.  A lady told her that her mum taught her to crochet but she didn't carry on with it, so my niece was very proud  to tell me that she had managed to teach the lady to crochet as well… well done Tabby! We will make beanie hats for Barbie next!
Over the Christmas break I have had time to finish off a load of stuff that has been building up which is amazing for me,  so I have knitted two 'Tigers' (rugby) beanies, finished off a cosy little cardigan for our two year old , made a 'Frozen' dress and started a 'Peppa' jumper for the 18 month old.  All I have to do now is finish off designing a new range of children's play things….its all in my head so I have to write it down quickly…. And another couple of crocheted beanies that have been requested along the way, oh… and recover a vintage child's cot.  Then I can turn my attention back to planning and preparing more creative stuff for the new year!
For the beanies, I downloaded some patterns before Xmas, and have used the best of two designs to create my ideal one.  The first one is a bit bigger and my daughter prefers this style as it drops down a bit at the back, the second is a more classic fit.  I used three colours DK  dark green, white and red  to create the stripy effect.  I have two more that I will crochet for the surfers in the family I have found a wicked pattern with waves they will love it.
The cardi, was knitted using Sirdar Crofter baby Fair Isle effect DK,   a lovely yarn it gives a pretty effect, the knitting pattern is from Sirdar's The Essential Baby Book, design C.  I like this book, the patterns seem to work well so I have done most of them at some time or another. The cardi  is finished off with a lazy daisy stitch and lots of red buttons (all different) … very cute.
Now the 'Frozen' dress, this is the fourth I have made, all have been differing styles, but this one I wanted it to 'grow' with the child, so it has drop sleeves, and ribbons on the shoulders which as she grows can be retied to fit, and I have left the length to the ankle as well for more growing room.  It looks very princessy …. Lovely.
Frozen Princess Dress
Working on the cot next, I had to buy a new staple gun before Xmas, I have mislaid my old one.. where I do not know probably left it somewhere… anyway, I have this lovely pink satin to replace what was originally pink silk with a 60's black and white plastic, sounds weird, but so 60's and stylish. I have carefully taken off the silk but I am going to retain the plastic because it is vintage and recover the base and the buttoned headboard in the satin.  The bottom has proper webbing and is tacked on, so I will just make sure this is ok and then it will be perfect for a little dolly to sleep in eventually.
OK so now working on the children's range of toys.. I cut out templates last night and started sewing them together, but I am not really happy with the fabric I am supposed to be using, it will be ok for a sample but not sturdy enough for the 'real' thing, so I need to look for alternatives.  More to come on this so I will let you know about progress.
So a great start to the New Year, I wonder what the rest of the year will hold, I am bursting with ideas, so try and keep up!
Joy