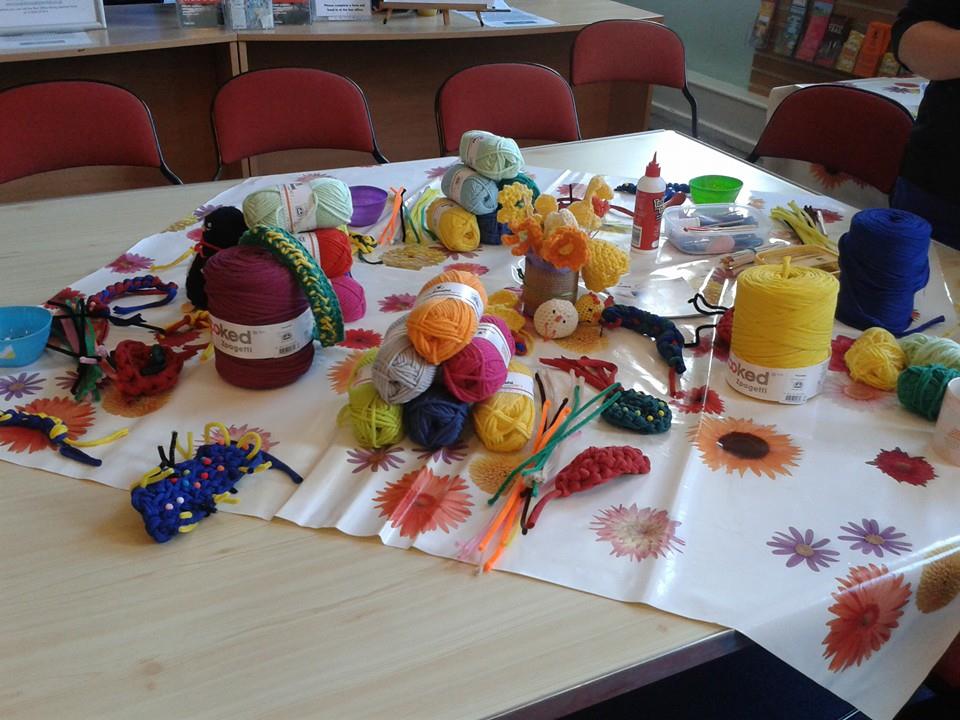 What a busy weekend we had with crochet workshops and private sewing tuition.
On Saturday we were teaching how to make a Roman Blind, Sunday we were running a crochet workshop for children at The Sock Gallery in Loughborough, and Monday we were making curtains.
Our Roman Blind workshop was to make one large window measuring  and one small window  . We started off by working out the maths, Roman Blinds are tricky to make, but once you have got all your measurements worked out, it's really just a case of piecing it together and sewing them up. The maths at the start is the hardest part.
The following day we embarked on our children's crochet workshop for The Sock Gallery Fair in Loughborough. We managed to teach nearly 100 children aged 4-16 how to finger knit and crochet. For the younger children we taught them how to do basic chain stitches on their fingers and they created some creepy crawlies out of really bright colours of Hooked yarn by DMC. They then were set loose decorating their bugs with pipe cleaners and beads.
Because of the time restriction on how long people would stay, we thought this would be a great idea to quickly show how you can make a basic chain stitch and turn it into something unusual! The kids really enjoyed themselves and were very pleased with what they accomplished!
We also showed the older children how to make their own friendship bracelets using myboshi wool and crochet hooks. These were made using a simple chain stitch, we taught each one how to hold the hook in one hand and thread the yarn through their fingers to create tension in their other hand. It's amazing how many boys took to crochet and really enjoy making their own bracelets!
We also got to chat to lots of people about learning to crochet themselves so they could teach their children. We were really pleased with the level of interest and we hope to see you all at one of our workshops in the future.
We would like to thank the Sock Fair for the opportunity, we really enjoyed being able to pass on some skills to such a happy bunch of children!
Finally we ordered some branded clothing to wear at our workshops and events. T-shirts and hoodies! Take a look!