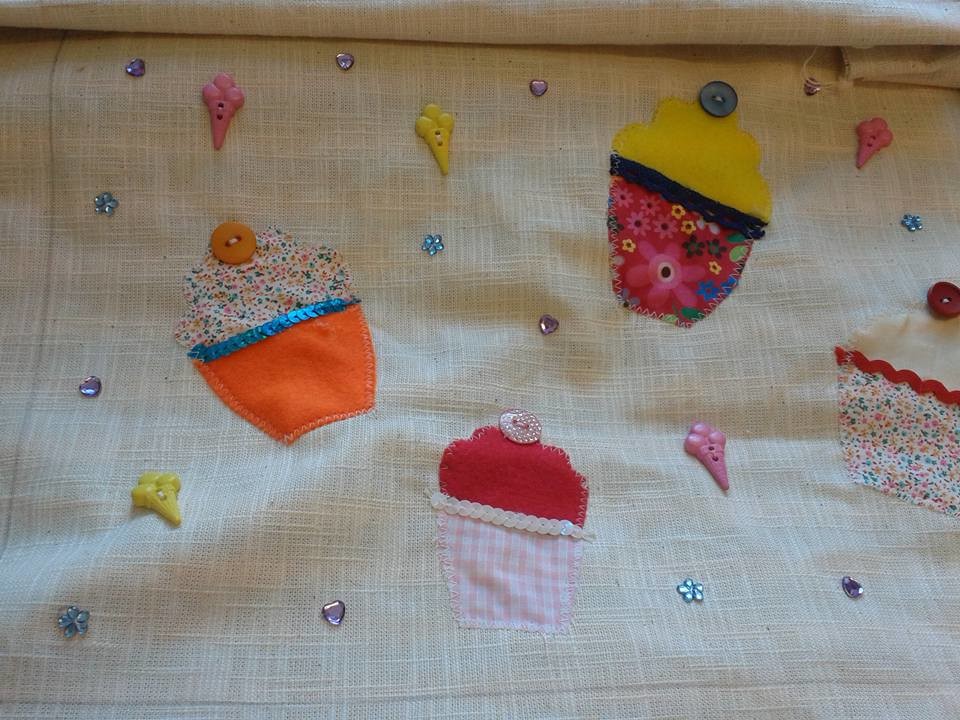 What a great weekend we have just had! 
A lovely afternoon with Annie and her friends celebrating her 40th birthday on Saturday, they chose to do creative textiles instead of partying in a club, because they knew that was what she would prefer, so thoughtful of them.  They decided to create a wall hanging for Annie's daughter, each working on a piece which eventually would be sewn together and framed for the bedroom wall.
They worked out a plan and then delved into my boxes of bits to find fabrics to work with, then buttons and ribbons that would brighten it up.  Hand sewing, machining and gluing into place all the elements which made up this lovely picture, which when finished they will be very proud of.
On Sunday we were at Barrow on Soar street market.  We have never been there before and it was a last minute decision we were lucky to get a space.  We arrived at 8.30am with a car full of stuff, Amy got out to find our space which was perfectly placed in the middle of the market, next to the WI, their cakes looked, and tasted great, what a lunchtime treat!  After disgorging everything onto the pavement our friend arrived with his gazebo, we set to and erected it with all the wools, hooks, samples and everything, we were very pleased with the stall it looked great.
The market began at 10am and I was surprised how many people were wandering around looking at the stalls, our guessing game certainly had people wondering at how many metres of DMC's Natura XL there were in the bag I had crocheted, there were some really wild guesses which caused great hilarity. The winner of the competition was Sharon Lewis! She guess right with 435m!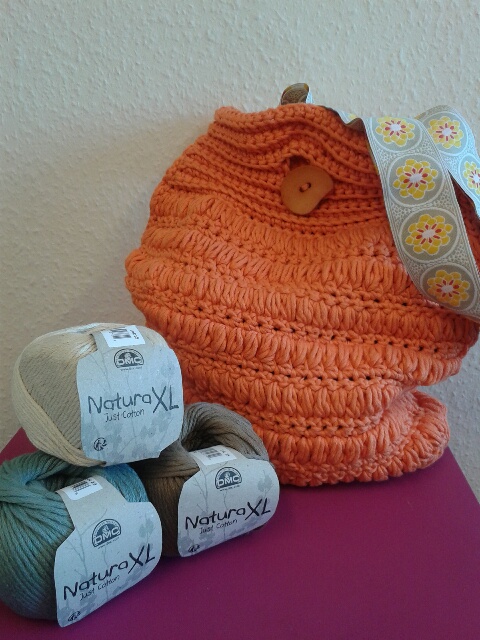 There was such an amazing amount of interest in learning new skills, crocheting particularly, and the more seasoned knitters rifled through the vintage patterns we bought along, they were very popular.
The weather held up nicely it was warm, even sunny at one point, then as the afternoon wore on the wind got up and nearly blew over the stall opposite us, (we tied ours to some railings!) It was at that point we decided it had been a lovely day, meeting lots of very friendly people, but it was time to pack up and go home.
We will definitely do it again next year, and well done to Ophelia for all her hard work in organising the market, which was a great success.